Foi revelada por uma revista japonesa chamada Newtype um novo título do episódio de Pokémon XY. O episódio vai ao ar no dia 09 de outubro.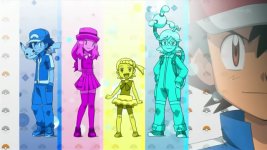 Episódio 849/XY046: The Clumsy Wigglytuff VS the Rampaging Salamence!!
Neste episódio Ash e seus amigos encontram um Wigglytuff de um Centro Pokémon que tentou e não conseguiu parar a fúria de um Salamence vizinho.
Veja logo abaixo a sequência dos episódios:
XY43: A Torre da Superioridade! A História da Mega Evolução! – 18/09/14
XY44: Shalour Gym Battle! Pikachu VS Mega Lucario! - 25/09/14
XY45: Clemont VS Bonnie!? A Sibling Battle With Meowstic!! - 02/10/14
XY46: The Clumsy Wigglytuff VS the Rampaging Salamence!! - 09/10/14